St. Timothy Carnival
The St. Timothy Carnival is a long-standing tradition bringing together our parish families for fun, food, games, and community building.
Join us November 2-5, 2023!
Order your t-shirts, wristbands, ticket books, & VIP Parking. Visit the Carnival Website to place your order today!
Sponsorship Opportunities
Carnival Flea Market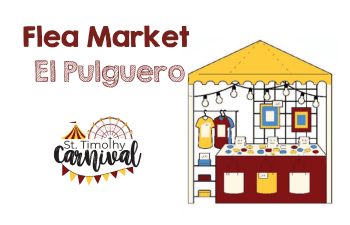 The St Timothy's Carnival will run from November 2nd – 5th. The FLEA MARKET will begin accepting items that will be sold in this year's carnival. We are requesting all kinds of clothes and household items. We are not accepting furniture or hardcover books this year. Donated items can be delivered to the parish office.